Reclaim Your CVA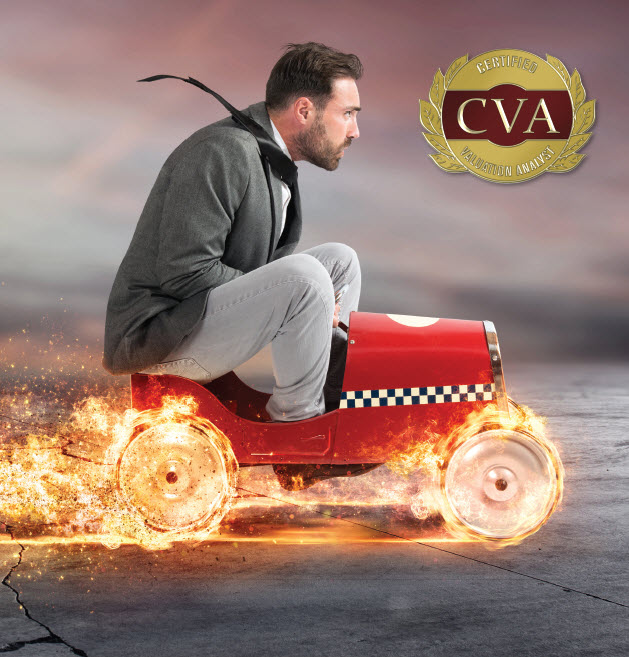 Super Charge Your Practice

Here are Three Reasons Why You Should Reclaim Your CVA:
Since 2008, the CVA remains the only business valuation credential accredited by the National Commission of Certifying Agencies (NCCA), the accrediting body of the Institute for Credentialing Excellence.

NCCA accreditation proves the CVA credential meets the highest standards in the world for integrity, objectivity, quality, and complies with a world-wide recognized set of standards.

Given this, does it not make sense for you to expect the organization accrediting you to also be accredited? No other business valuation credential can boast this level of integrity and transparency, which is a key distinction between the CVA and the ABV, ASA, and now, the CEIV.


a. Around the Valuation World®—A monthly webcast-update of all the valuation news

b. Archived Industry and Metro Reports—Over 1,100

c. Business Valuation Articles—Over 7,400

d. Federal & State Law Cases—Over 2,200

e. Conference Presentations—Over 700

f. Compensation Data—Hundreds of job titles

g. IPO S-1 Filings—A fantastic source for industry research with over 68,000 filings

h. Expert Witness Profiler—A quick and easy way to do some due diligence on your opponent


We listen to our members!

For nearly three decades, NACVA has transformed careers and professional practices for thousands of financial consultants worldwide keeping our focus on providing the utmost quality in delivering technical journals and blogs, conferences, workshops, webcasts, broadcasts, and webinars, mentorship opportunities and networking, databases, software, and practice building tools. We will continue to evolve as THE premier global association that you would be proud to be involved with.
A Few Simple Steps To Reclaim Your CVA

<5 Years Expired
Pay a reinstatement fee—$295
Pay one-year membership dues—$535
Complete one cycle of recertification (60 hours applicable CPE or 60 points within the prior three-years)
5–7 Years Expired
See 1 and 2 above
Retake NACVA's five-hour CVA Certification Exam—$625 fee
7+ Years Expired
See 1, 2, and 5 above
Retake NACVA's Sample Case Study or submit an actual BV report you have prepared (found in the Case Study Packet, available upon request) Exception: If since you dropped your CVA, you have held the ABV, and your ABV is current and active, NACVA will waive the Case Study/actual BV report requirement.
To further encourage you to take this leap,
we will waive the $625 CVA Certification Exam fee and the $295 reinstatement fee if you

rejoin NACVA by November 30, 2019
. You will also receive a complimentary copy of our
CVA Exam Q&A Study Guide
(includes domestic shipping; additional fees apply for international shipping), a
$260 value
.
Though we are waiving the exam fees, the CVA is accredited. As such and upholding NCCA standards, the CVA Certification Exam will not be waived. When you rejoin, if you also register to attend our
Business Valuation Certification Training Center (BVTC)
via our live or online broadcast, webcast, or self-study (with video) programs,
we will discount the price 50%
.
To Reclaim Your CVA today,
please contact Member/Client Services at (800) 677-2009.