Annual Conference in Review—Second Quarter 2019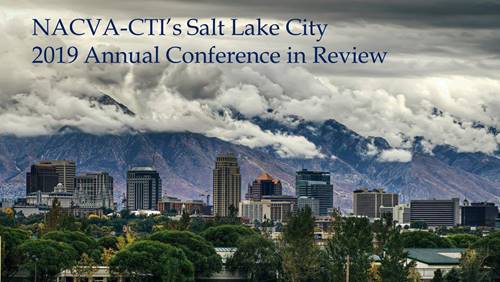 by Brien K. Jones, Chief Operations Officer and Executive Vice President, Business Development
Change, Challenge, Opportunity—The theme for this year's Conference delivered more than 60 sessions presented by over 70 subject matter experts.



Sessions were focused on addressing paradigm shifts in marketing professional services, competition and commoditization for services, as well as technical and how-to-do-it updates for business valuation, financial litigation, and related consulting specialties.

Held in NACVA's hometown, Salt Lake City, which was a first for the 25+ year annual event, attendance piqued at over 500 in person and live online attendees.

Notable Conference Moments

Kindra Hall's Keynote on The Power of Storytelling.
Click the photo above to hear Kindra share nuggets from her dynamic session.
"It was so much more than I expected and plan to implement some of the strategies she presented. In fact, useful stories are beginning to swirl in my head."
- Christine Hoppe, CPA, ABV, CFF, CVA, MST | Detroit, MI

"Outstanding keynote. Many of us are already doing much of what Kindra recommends in personal interactions with clients or referral sources, but this pulls it all together."
- Eric Ransick, CPA, CFF, CVA | Denver, CO

"Awesome. Not very many online CPE courses grab my entire attention. THIS ONE DID!!! She is great."
- Patrick Calvert, CPA | Omaha, NE

Roy Salter's pioneering study on Reconciling Going-Concern Business Valuation Indications Derived from Multiple Business Valuation Methods.
Left: Parnell Black, MBA, CPA, CVA, CEO NACVA Co-Founder with Roy Salter.
Center: Roy presenting his session and (right) post-session chat with Ron Rudich and Roger Grabowski.

In 2018, NACVA supported a ground-breaking study being conducted by NACVA member, Roy Salter, for his Dissertation for his Doctorate at Grenoble Ecole de Management in France.

The survey was designed to collect information from valuation practitioners on practice mechanisms that can be used to reconcile materially different going-concern business valuation indications derived from multiple going-concern business valuation methods. The survey was a success with over 400 respondents.

In his conference session, Roy discussed the findings of the survey and introduced an Alternative Practice Mechanism comprised of procedural, theoretic, and mathematical-elements that augment and organize prevailing going-concern business valuation theories and methods, and approaches to addressing these issues.

A series of articles authored by Roy will be published in upcoming issues of The Value Examiner.

"Incredible presentation. I participated in the survey and feel proud to have been part of these findings. Roy's presentation was very, very technical but the concept is incredibly important, and the most basic question is one that we, as a profession, need to be able to address: why do our conclusions of value differ among methods, and can we explain those differences? His research will help move the profession toward better clarity and consistency."
- Elizabeth Dillon Charles, CPA, CVA | Tampa/St. Petersburgh, FL

"This could be the future of valuations."
- David C. Wilson, CPA, CVA | Sacramento, CA

"I am very impressed with Roy's significant investment into potentially profession-changing tools and selflessly sharing and making available to all of us his research and learning. I am greatly challenged by what he shared with us."
- Gregory Reagan, CPA, CFF, ABV, CFE, CVA | Charlotte, NC

NACVA International: the Global Association of Certified Valuators and Analysts (GACVA) announces chapter in India.
From left: Chanda Chuon, NACVA Manager of Marketing Media and Strategic Partnerships; Jim Walling, MBA, CFA, CVA, ACVA Advisor; Upasak Shah, MS Finance, ACVA Executive Director; Pratik Shah, MS Finance, ACVA Executive Director; Brien Jones, NACVA/GACVA Chief Operations Officer and Executive Vice President, Business Development.

Click the photo above to hear an interview with ACVA leadership discussing goals and objectives for growing the chapter in India.

Launched in February 2019, the Association of Certified Valuators and Analysts (ACVA)-India joins the already established chapters in Canada, Europe, the Middle East, Africa, Taiwan, and Southeast Asia.

ACVA received recognition from the Insolvency and Bankruptcy Board of India (IBBI) as a registered valuer organization (RVO) in December 2018 for the asset class—securities or financial assets. From January 31, 2019, a valuation professional in India will have to be a registered valuer (RV) to conduct valuations under both the financial and insolvency regulations.

"Given that ACVA as the first and only RVO to be associated with a globally recognized professional body for valuations (NACVA/GACVA), it is in a unique position to contribute to the evolving valuation landscape in India and to help elevate the level of business valuation practice in India in line with international business valuation standards," said Upasak Shah, Executive Director of ACVA.

Jim Hitchner's Hardball sessions cover a lot of ground.

A staple at the Conference for the past many years, Jim Hitchner moderated open question and answer sessions with select conference faculty. "We're here to answer your questions. We have no idea what you're going to ask," Hitchner led with as he opened the sessions. "There's only one rule for Hardball with Hitchner," he continued, "and that is that no one can say 'it depends.' If they do, you get to 'boo' them, and boo them loudly!" he joked.

Panelists with Jim Hitchner from left: Roger Grabowski, Managing Director at Duff & Phelps; Jim Alerding, Alerding Consulting; Marc Bello, Edelstein & Company; and Lari Masten, Masten Valuation.

Click the photos above to view both of the Hardball with Hitchner Q&A sessions in their entirety.

NACVA Honors
Every year NACVA recognizes many dozens of members who support the organization through volunteerism on a governance board, strategic committee or task force, and also members and experts who support continuing professional education as a faculty team member. NACVA accomplishes great things, arm-in-arm, with member leadership, direction, guidance, and support.

Click the recognition categories below to view this year's recipients.

From left: Jonathan Jackson, MBA, NACVA Executive Director; Pam Bailey, retired NACVA Executive Director; Brien Jones, NACVA/GACVA Chief Operations Officer and Executive Vice President, Business Development.

NACVA also honored Pam Bailey, recently retired Executive Director for her 23-year tenure with the organization. She was presented with the Member Emeritus Award that extends lifetime membership with the association. Jonathan Jackson, MBA, the current Executive Director spoke briefly about goals and initiatives he looks forward to achieving. Click the photo to view the interview with Pam and Jonathan.


The four-day Conference was chock-full of great sessions and networking in the heart of downtown Salt Lake City.

If you missed the Conference or even if you attended, you can click the photos below to view the Around the Valuation World (AVW) segments featuring Conference faculty discussing their presentations.

Roger Grabowski discussing cost of capital resources and estimating long-term growth rates.

AVW Morning Show Industry Correspondents with Conference faculty discussing sessions on:

Estimating long-term growth rates
Managing business interruption claims
Reconciling differing expert opinions
Operational perspectives for business valuation
Examining the numerator in the valuation equation
AVW Morning Show Industry Correspondents with Conference faculty discussing sessions on:

Online marketing strategies
Taxation for divorce
Discounts for lack of marketability (DLOM)
Discounts for lack of control (DLOC)
Reconciling going-concern business valuation indications derived from multiple business valuation methods
Projections for personal injury/wrongful death
The Loews Philadelphia Hotel in Center City Philadelphia, PA will host next year's Conference, June 17–20, 2020. Interested in presenting or know of subject matter experts to propose to the agenda? Be on the lookout this summer for the call for presentations for the 2020 Conference or contact
Diana Ridgeway, NACVA Director of Educational Enrichment
at
DianaR1@NACVA.com
or (800) 677-2009.