Call for Authors
Write an Article and Gain the Recognition of Your Peers
Don't keep your expertise to yourself, share it with your colleagues. Choose one, or more, of the opportunities below to get your article published.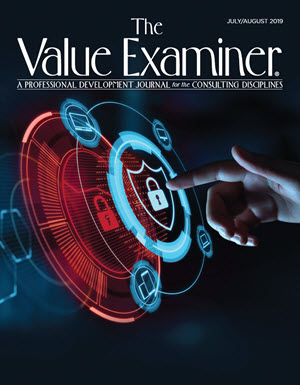 The Value Examiner® is an independent, professional development journal dedicated to the exploration of value and its ramifications for consultants. It is the singular source of timely, technical, in-depth articles written for consultants by practitioners and academics at the top of their respective fields. The distinguished authors bring expertise acquired from years of training and experience to bear upon topics both practical and theoretical. Getting an article published under your byline in The Value Examiner can help you build a reputation as an eminent authority in your area of expertise. As an author in the Examiner, you would also enjoy the the benefit of increased visibility among 7,000 subscribers and 13,000 pass-along readers, build your curriculum vitae (CV), earn Continuing Professional Education (CPE) credit, reprints of your article for distribution to clients, prospects, and referral sources, and a PDF version of your article to post on your website.
For information on publishing articles in The Value Examiner, click here.
---
The
QuickRead®
has an estimated annual readership of over 50,000 professionals interested in the fields we support, and in which you have unique expertise. Specific topics covered include business and intangible asset valuation; litigation consulting and expert witnessing; healthcare consulting; mergers, acquisitions, and exit planning; fraud risk management; forensic accounting; estate planning; and other related areas. Share your insights and mastery of the areas in which you specialize. Contributing to the
QuickRead
will give you exposure to tens of thousands of professionals and place you squarely in the national spotlight as an expert in your field. And you will become part of the prestigious and elite
QuickRead
team, which can be used in your curriculum vitae.
If you are interested in being a contributing author to QuickRead, click here.
---
The
Journal of Forensic and Investigative Accounting
(JFIA) is an open access journal that publishes creative and innovative studies employing research methodologies that logically and clearly identify, describe and illuminate important academic forensic accounting, fraud, and litigation services issues; tests and improves forensic accounting research skills, tools, and techniques; stimulates discussion and experimentation in instructional means, methods, and materials in the field of forensic accounting and research in general; exchanges of ideas and findings about developments related to instruction, learning, and curricular issues in forensic accounting and fraud education.