Forensic Accounting Academy©

Co-Sponsored by the National Association of Certified Valuators and Analysts® Financial Forensics Academy™, and financialforensics®
The Art & Science of Investigating People & Money
©
Despite the chronic and compelling need for financial forensics and forensic accounting expertise, the accounting and financial professions have yet to embrace or even offer a cogent and comprehensive forensic accounting tools-based methodology. That deficiency has plagued our economy…until now. The
Forensic Accounting Academy
© (Academy) is the most all-inclusive training in forensic accounting available to date. The intensive and hands-on, four-day Academy provides a one-stop source of 300+ tools, techniques, methods, and methodologies applicable to virtually any large or small financial matter, whether civil, criminal, or dispute, and defines the financial forensics/forensic accounting profession: "The Art & Science of Investigating People & Money©."
The Academy content is designed for both financial and non-financial professionals who require sophisticated investigative and analytical skills to stay abreast of increasing civil and criminal wrongdoer treachery. Advanced skills are essential as people and money resources diminish. Those who complete the Academy become qualified as Forensic Operators©—financial forensics-capable personnel who possess unique and specific skills, knowledge, experience, education, training, and integrity beyond the mere financial realm.
The Academy centers around the Forensic Accounting Investigation Methodology© (FAIM©), a proprietary Internet-based hyperlinked methodology which delivers immediately useable and practical skills—NOT theory—that attendees will immediately deploy upon return to their responsibilities. The 300+ financial forensics/forensic accounting tools, techniques, methods, and methodologies are offered nowhere else and in no other programs throughout the U.S. FAIM© is the only financial forensics/forensic accounting methodology published by the United States Department of Justice and the American Bar Association.
As part of your study material, you will receive a complimentary copy of Financial Forensics Body of Knowledge.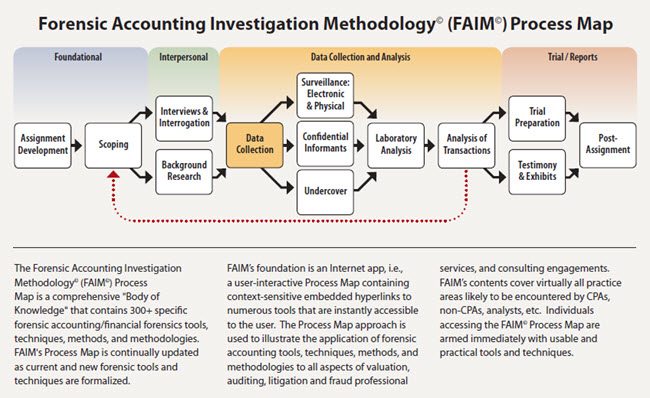 ---
After completing this academy, attendees will be able to:
Establish financial forensics/forensic accounting as the financial "supra" discipline
Differentiate forensic accounting from mere "fraud" analysis
Determine appropriate methods and tools for interviewing, interrogation, and behavior detection skills
Discern the characteristics and the behavior of virtually any data set under investigation
Identify and integrate proven and effective forensic accounting skills in your practice

Back to Top
Day 1: Differentiate and Demonstrate Forensic Accounting Mind-Set
Identify technical reference sources
Compare and contrast industry sources
Demonstrate phases, stages, and actions
Day 2: Behavior Detection
Detect and avoid threatening behaviors
Illustrate the CICO method of behavior detection
Deploy the run/hide/fight/swarm response to terrorism
Detect when someone is lying to you
Live class practice sessions

Day 3: Intermediate and Advanced Techniques of Forensic Financial Analysis
Describe and apply the five key attributes of forensic financial analysis
Explain the elements of aberrations and variability within data sets, financial or otherwise
Apply 20–25 foundational techniques as the springboard to deploying the remaining 300+ techniques
Live class practice sessions
Day 4: Executing Critical Forensic Techniques
Train others in your organization with respect to the foundational techniques
Identify your professional responsibilities regardless of financial or non-financial responsibilities
Implement a continuous means of maintaining technical currency as new tools, techniques, methods, and methodologies are formalized
Live class practice sessions
---
Who Should Attend
This primer is ideal for CPAs, law enforcement (federal, state, local), regulators, investigators, agents, attorneys, prosecutors, business advisors, bankers, fiduciaries, and business owners—in short, those who may not intend to focus a practice on financial forensics, yet want to understand the applicability of the discipline in their pursuits.
Back to Top
---
For dates and locations contact Member/Client Services at (800) 677-2009 or NACVA1@NACVA.com.
For additional Forensic Accounting training resources please visit our
CPE On-Demand library featuring recorded webinars on Forensic Accounting topics
.
This academy is paperless (except printed book). Attendees will be provided a link to course material that will be used during the course, so attendees will need a laptop with Internet access. The CTI will provide electric power and Internet access, but will not provide laptops. Attendees are encouraged to bring their own mobile wireless modem or hotspot device.
Delivery Method

Group-Live

Program Level

Intermediate

Advanced Preparation

None

Prerequisites

Previous training or research on subject matter being taught.

Fields of Study

Accounting

10

Auditing

8

Behavioral Ethics

2

Business Law

2

Communications and Marketing

3

Management Services

4

Regulatory Ethics

2

Taxes

1

Total CPE Hours

32
For more information regarding CPE, Program Levels and Fields of Study please
click here
.